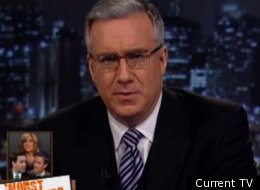 Keith Olbermann had some charged words for the weekend anchors of Fox News' morning program, "Fox and Friends."During his "Worst Persons" segment on Monday, Olbermann lashed out at Clayton Morris, Allyson Camerota, and Dave Briggs for a report on Occupy Wall Street.
Olbermann ran a clip that featured the hosts commenting on Stacy Hessler, a 38-year-old mother of four who left her home in Florida with the support of her family to participate in the Occupy Wall Street protests in Zuccotti Park.
The "Fox and Friends" hosts, who Olbermann described as "the B-team to the weekday dingbats" and as "astoundingly bad," harshly criticized Hessler for associating her decision to temporarily leave her family and participate in Occupy Wall Street with military personnel who have to leave their families to serve. They called it "disgusting" and Camerota said that Hessler "must be having a midlife crisis of some sort to leave [her] kids."
"So she's disgusting, she's having a midlife crisis, she is denying her husband sex and is an unfit mother because she decided to get involved in something political that she believes in?" Olbermann wondered.
He then directed his comments to host Camerota, saying that she has to leave her three children 4 AM to work at the "political whorehouse that is Fox News." Olbermann added, still referring to Camerota, "I don't see anyone suggesting they take her kids away."
Olbermann is a harsh critic of Fox News and has previously tweeted that the network is "100% bullshit."