If you fear change, then give yours to a homeless person….
Photo Art By  cayandesign
Support the Boycott of Chick-Fil-A for their disgusting support of anti-gay marriage hate groups.  
Chick-Fil-A has donated over $2 million dollars (money that it's customers helped it to make) to anti-gay marriage organizations like the Pennsylvania Family Institute. These are people who have said that striking down Prop 8 was a direct hit to human civilization. They've said same-sex marriage threatens children, hurts families, and punishes society by caving in to a radical sexual revolution.
Just doing some checking will reveal that's not the only anti-gay organization that Chick-Fil-A supports.  They donated to these hate groups as follows:
* Marriage & Family Legacy Fund: $994,199 
* Focus On The Family: $12,500 
* Exodus International: $1,000
Chick-fil-A's charitable arm, the WinShape Foundation, has been particularly active in the fight against marriage equality. They've hosted conferences with some of the leading opponents of gay marriage in this country. A higher up at WinShape has even praised the efforts of anti-gay activist David Blankenhorn for working against marriage equality, and for articulating a solid reason why American culture should reject same-sex couples.


There are currently well over 20 petitions hosted by the social networking non-profit petition site Change.org addressing this very issue.  The assortment of Anti-ChickiFil-A petitions can be found at http://www.change.org/petitions#search/chick fil a
Take action to keep Chick-Fil-A from promoting hate against same-sex couples who wish to marry and raise children.
The only business that Chick-Fil-A needs to pay attention to is Chicken.
 The personal lives of same-sex couples is certainly no place for a fried chicken chain.
February 9, 2012:
The recent actions by the ASU administration to block access to the Change.org tuition petition are despicable. Worse, the University's justification for these actions was a bold-faced lie.
For the University to block an online petition just because it advocates something they may not like is the height of institutional censorship, which is contrary to the most deeply held virtues of the academy.
Does AT&T disconnect your phone call if you're telling a friend that their service is overpriced? Does your MacBook stop working if you go to download a Linux distribution? Of course not.
Worse, far worse, is ASU's claim that they blocked access to this website to conserve their network resources. This is a lie, plain and simple. They know it, and they purposefully lied to the University community anyway. This website uses a miniscule amount of bandwidth. Students and faculty transfer tens of gigabytes of data without thinking twice, or stream multi-GB movies from Netflix. Compared to these everyday "acceptable" uses of the network, the amount of bandwidth consumed by Change.org's petition is utterly trivial — maybe a few hundred kilobytes. This has nothing to do with the cost of tuition at ASU. It's about censorship and about using lies to justify it.
Sun Devils, you deserve better. You deserve for your university to foster open discourse, something that has been cherished by academics for a thousand years, and not censor ideas just because they're afraid of them. You also deserve for your university, to whom you each pay thousands of dollars a year, to not lie to your faces about what they're doing and why.
Walter Freeman
Ph.D., Computational Physics
Originally published February 8, 2012 at 5:18 pm at statepress.com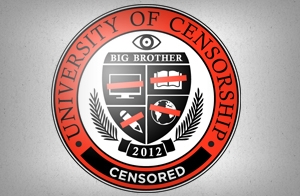 Arizona State University might need to change its name to Censorship U after deciding to block students' access to popular petition site Change.org.
.
Change.org happens to be hosting a petition created by ASU student Eric Haywood that protests rising tuition costs at the school.
.
This blocking could be violating the First Amendment rights of ASU students to speak freely and petition government.
.
When challenged about the website blocking, ASU officials claimed that Change.org is a spam site, writing that the blocking was conducted "to protect the use of our limited and valuable network resources for legitimate academic, research and administrative uses."
.
But Change.org is anything but spam. It's a perfectly lawful website that has helped millions take action on a host of important issues (disclaimer: I worked there as managing editor from 2008-2009).
.
The fact is, disabling access to any lawful site violates the spirit and principles of Net Neutrality, chills academic freedom and possibly rises to the level of a First Amendment violation. It's astonishing that ASU President Michael M. Crow would allow this to happen — and that's why Free Press and Change.org are urging him to stop his school's censorship immediately.
.
We're at a moment when threats to online speech are peeking around every corner. Just last month, we beat back SOPA and PIPA, two bills in Congress that would have opened the door to online censorship from big corporations.
.
Now Arizona State University is going after free speech. If it gets away with this, other universities could be emboldened to follow suit. We must defend ASU students' right to speak online.
.
On December 1, 2011 a group of ASU students started the petition titled "Arizona State University: Reduce The Costs Of Education For Arizona State University Students." at the Change.org petition site.
This petition requested signatures to support the reduction in the cost of education for ASU students.
On the morning of December 7, 2011, Arizona State University BLOCKED ALL ACCESS to Change.org for ALL of it's over 70,000 students and over 5,000 faculty and employees. 
As of this date, approximately TWO MONTHS later, Arizona State University continues it's BLOCKADE of the Change.org petition website, in a blatant attempt to prevent it's current ernollment of more than 70,000 students from viewing and/or signing the petition to reduce college costs.


Clearly, ASU does not want it's students, faculty, or employees signing this petition and has resorted to BLATANT and UNLAWFUL Censorship in order to block the freedom of expression of it's students and faculty.

As such, students living on ASU campus, using ASU computers or accessing the internet through ASU's school WIFI are unable to access Change.org. 

As a result, Not only can't ASU students sign the above petition but they are unable to sign ANY PETITION on the Change.org website.

In addition, emails sent from any "change.org" email address to any student or faculty email address ending in "asu.edu" are also being blocked by Arizona State University. That means that ASU refuses to allow Change.org or anyone using Change.org to send Arizona State University students or faculty emails regarding petitions facilitated by Change.org.

Not only is this outrageous, but it is a violation of the 1st Amendment rights of both ASU students as well the rights of Change.org and those with petitions hosted by Change.org to freely express itself.




Last time I checked this was America, not China, or Iran, or North Korea…..

What can be done about this?

Well. If you are an ASU Student, Professor, Instructor, or Employee you CAN sign the petition….You just can't use any ASU computer or WIFI network to do so….

Just go to the  petition at the Change.org site from your computer using ANY WIFI connection that is NOT associated with ASU…..That's it…..Easy.
.
Support Arizona State University Students.
Support Freedom Of Expression.
Support The 99%.
Sign The Petition.
.
http://www.change.org/petitions/arizona-state-board-of-regents-reduce-the-costs-of-education-for-arizona-state-university-students
.