BREAKING NEWS: Apple Re-invents The Toilet….
The Tweaker
The real genius of Steve Jobs.
NOVEMBER 14, 2011
Not long after Steve Jobs got married, in 1991, he moved with his wife to a nineteen-thirties, Cotswolds-style house in old Palo Alto. Jobs always found it difficult to furnish the places where he lived. His previous house had only a mattress, a table, and chairs. He needed things to be perfect, and it took time to figure out what perfect was. This time, he had a wife and family in tow, but it made little difference. "We spoke about furniture in theory for eight years," his wife, Laurene Powell, tells Walter Isaacson, in "Steve Jobs," Isaacson's enthralling new biography of the Apple founder. "We spent a lot of time asking ourselves, 'What is the purpose of a sofa?' "
It was the choice of a washing machine, however, that proved most vexing. European washing machines, Jobs discovered, used less detergent and less water than their American counterparts, and were easier on the clothes. But they took twice as long to complete a washing cycle. What should the family do? As Jobs explained, "We spent some time in our family talking about what's the trade-off we want to make. We ended up talking a lot about design, but also about the values of our family. Did we care most about getting our wash done in an hour versus an hour and a half? Or did we care most about our clothes feeling really soft and lasting longer? Did we care about using a quarter of the water? We spent about two weeks talking about this every night at the dinner table."
.
Steve Jobs, Isaacson's biography makes clear, was a complicated and exhausting man. "There are parts of his life and personality that are extremely messy, and that's the truth," Powell tells Isaacson. "You shouldn't whitewash it." Isaacson, to his credit, does not. He talks to everyone in Jobs's career, meticulously recording conversations and encounters dating back twenty and thirty years. Jobs, we learn, was a bully. "He had the uncanny capacity to know exactly what your weak point is, know what will make you feel small, to make you cringe," a friend of his tells Isaacson. Jobs gets his girlfriend pregnant, and then denies that the child is his. He parks in handicapped spaces. He screams at subordinates. He cries like a small child when he does not get his way. He gets stopped for driving a hundred miles an hour, honks angrily at the officer for taking too long to write up the ticket, and then resumes his journey at a hundred miles an hour. He sits in a restaurant and sends his food back three times. He arrives at his hotel suite in New York for press interviews and decides, at 10 P.M., that the piano needs to be repositioned, the strawberries are inadequate, and the flowers are all wrong: he wanted calla lilies. (When his public-relations assistant returns, at midnight, with the right flowers, he tells her that her suit is "disgusting.") "Machines and robots were painted and repainted as he compulsively revised his color scheme," Isaacson writes, of the factory Jobs built, after founding NeXT, in the late nineteen-eighties. "The walls were museum white, as they had been at the Macintosh factory, and there were $20,000 black leather chairs and a custom-made staircase… . He insisted that the machinery on the 165-foot assembly line be configured to move the circuit boards from right to left as they got built, so that the process would look better to visitors who watched from the viewing gallery."
.
Isaacson begins with Jobs's humble origins in Silicon Valley, the early triumph at Apple, and the humiliating ouster from the firm he created. He then charts the even greater triumphs at Pixar and at a resurgent Apple, when Jobs returns, in the late nineteen-nineties, and our natural expectation is that Jobs will emerge wiser and gentler from his tumultuous journey. He never does. In the hospital at the end of his life, he runs through sixty-seven nurses before he finds three he likes. "At one point, the pulmonologist tried to put a mask over his face when he was deeply sedated," Isaacson writes:

Jobs ripped it off and mumbled that he hated the design and refused to wear it. Though barely able to speak, he ordered them to bring five different options for the mask and he would pick a design he liked… . He also hated the oxygen monitor they put on his finger. He told them it was ugly and too complex.
Read More ……….
Steve Jobs told Rupert Murdoch that Fox News was a "destructive force in our society," according to the blockbuster biography of the late Apple CEO.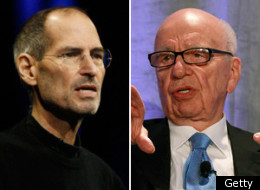 Poynter was the first to uncover Jobs' blunt words about the network in Walter Isaacson's new book. Isaacson writes that, after speaking at a News Corp. retreat, Jobs unloaded on Murdoch:
"You're blowing it with Fox News," Jobs told him over dinner. "The axis today is not liberal and conservative, the axis is constructive-destructive, and you've cast your lot with the destructive people. Fox has become an incredibly destructive force in our society. You can be better, and this is going to be your legacy if you're not careful." Jobs said he thought Murdoch did not really like how far Fox had gone. "Rupert's a builder, not a tearer-downer," he said. "I've had some meetings with James, and I think he agrees with me. I can just tell."
This was part of Jobs' apparent love of tough talk with other powerful people. He also told President Obama that his economic policies would rob him of a second term.
Nevertheless, Jobs was a close collaborator with Murdoch, working with him on the mogul's iPad newspaper The Daily.
Today's brilliantly smart-ass response to a completely well-meaning sign.
Steve Wozniak Is "A Little Afraid" About The Future Of Apple
TechCrunch and Digg reports Apple co-founder Steve Wozniak says he is "a little afraid about the future of Apple" even though "it could go positive." Some of his concerns are based on Apple's iPhone 4S product demo. He says the company talked about its dual-core processor, but "Steve (Jobs) doesn't want us to think about dual-core processors, all we need to know is how do we get our answer, how do we connect to the internet… Human things, not technical things." He also says he doesn't want Apple to go the way Sony went in its products.
Woz is living up to his twitter bio, "Engineers First!". He is first in line to buy the iPhone 4S outside the Los Gatos, California Apple store. He was holding court, taking questions and signing autographs.
In this video, shot with an iPhone, Woz shared his reaction to the recent death of Steve Jobs and the last phone call they had together. Woz also talked about the Apple's planned spaceship campus and its connection to Apple history.
In another video in an earlier post, Woz talks about why he is excited about getting the iPhone 4S.
Update: A commenter on Digg points out that Jobs talked about the dual-core processors at theiPad 2 keynote.


Photo by Greg Kumparak
Editor's Note: The woman who is asking most of these questions was one of the many members of the public who gathered outside the Apple store. Wozniak was happy to talk to anyone who had a question or comment.