Today's Smart-Ass Response To A Completely Well-Meaning Sign…
It's OK to celebrate Columbus Day but try not to get syphilis, rape, torture, enslave and kill tons of people and destroy an entire civilization…
Today is Khloe Kardashian's
 birthday. Feel free to send Khloe a clue…
Bottled Water = Tap Water
MORON UPDATE: Michele Bachmann actually uses the phrase "Waving A Tar Baby" to describe Barack Obama…
Today's Brilliantly Smart-Ass Response To A Completely Well-Meaning Sign…
The Peculiar Photograph Of The Day - Bad Pinata… 
Courtesy Of Porter Max
Crime And Punishment: Getting Arrested On Facebook…
Facebook wall posts, photos, messages, events pages and more can be helpful tools for authorities tracking a suspect, serving as key evidence in criminal cases. Recently, it's become more and more common for police to turn to the social network during investigations.
In December 2010, a former New York EMT, Mark Musarella, pleaded guilty to charges of misconduct and disorderly conduct, according to the AP. "Prosecutors say Musarella responded to a March 30, 2009, emergency call in Staten Island, where he snapped a picture of a woman who had been strangled. He then posted the image on [Facebook], the AP also writes.
In July 2011, Joseph Bernard Campbell said he would plead guilty to charges of cyberstalking and unauthorized access to a computer. "At least 19 women were victimized by a computer hacker who broke into their email accounts, captured risqué photographs of the women and then swapped them for the women's Facebook profile pictures, authorities say," reports Tampa Bay Online. 
In Carson City, Nevada a group of six girls (ages 12 to 13) were arrested in January 2011 for allegedly posting threatening comments on the wall of a Facebook event titled "Attack A Teacher Day." According to the Nevada Appeal, posts apparently written by the girls containted the word "attack."  "All of the girls said it was just a joke," Carson City Sheriff's Deputy Jessica Rivera told the Appeal.
In April 2011, two preteen girls from a Seattle suburb were charged with cyberstalking and first-degree computer trespassing. Reuters reports that the girls "allegedly post[ed] sexually explicit photos and comments on the Facebook page of a 12-year-old classmate" and were "accused of using the third girl's computer address to send out instant message solicitations for sex using her name."
London Eley of Philadelphia allegedly used Facebook to find and hire someone to kill Corey White, the father of her child. "I will pay somebody a stack to kill my baby father," Eley wrote, according 6ABC.com. A man named Timothy Bynum allegedly accepted Eley's offer, writing, "say no more," "what he look like?" and "need dat stack 1st," reports 6ABC.com. White alerted the authorities to the alleged correspondence between Eley and Bynum, both of whom were taken into custody in June 2011.  White was shot in August while Eley and Bynum remained in jail.
An Illinois teenager was arrested in May 2011 for allegedly distributing (via Facebook) a provocative list that ranked the physical appearance of 50 girls from his high school. According to the Chicago Sun Times, the list in question "described the girls by explicit, derogatory nicknames and assessed their physical appearance, sexual desirability, sexual activity and other characteristics". The Associated Press lists nicknames like "Fallen Angel," "Blond Bombshell" and "The Hangover." "He obviously offended people but he also has a right to free speech," criminal defense attorney Mark Gottesman told The Huffington Post.
Former U.S. Congress candidate Cheryl Allen was arrested and charged in January 2011 for reportedly threatening several civil servants. According to the Associated Press, "The alleged threats mentioned four Morgan County judges, and other public officials […] were mentioned by first name. Media reports said Allen had previously filed a discrimination lawsuit that was dismissed by a judge."
In February 2011, Eric James Wilson, 21, was arrested in Palm Bay, Florida forallegedly assaulting his then-wife. According to ZDNET, police charged Wilson with "battery domestic violence and a misdemeanor." The fight reportedly started after Wilson changed his Facebook relationship status from "married" to "single."
#MCO435
The Greatest Fast-Food Order Ever Placed At A Drive-Thru…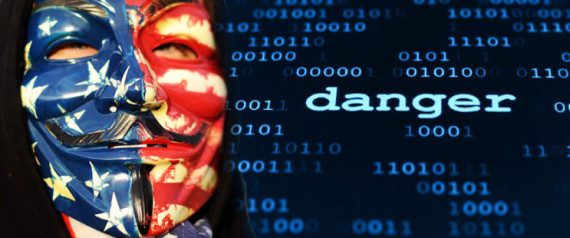 This article is the first in a two-part series tracing the development of the amorphous online community known as Anonymous, pranksters who have become a force in global affairs.


Late in the afternoon of Jan. 19, the U.S. Department of Justice website vanished from the Internet. Anyone attempting to visit it to report a crime or submit a complaint received a message saying the site was unable to load. More websites disappeared in rapid succession. The Recording Industry Association of America. The Motion Picture Association of America. Universal Music. Warner Brothers. The FBI.
By nightfall, most of the sites had come back online, but the people responsible for the outages had made their point. They'd landed what they hailed as the biggest blow yet in an escalating war for control of the Internet, and in one of their online command centers, "Phoenix" and his associates were celebrating.
Phoenix, a college student, is a member of Anonymous, the loose coalition of hackers, pranksters and other creatures of the Internet who have made headlines over the last 13 months for attacks on the computer systems of a wide range of targets: MasterCard, Visa and PayPal; the San Francisco public transit system; a Texas think tank; Sony; a host of computer-security companies; authoritarian governments in Tunisia and Egypt.
Phoenix wouldn't call himself a "member," of course. Much like Occupy Wall Street, a movement with which it has many ties, Anonymous technically has no official membership, hierarchy or specific agenda. Some "anons" do wield more influence than others and the resulting resentments have led to bitter internecine feuds, but its overall lack of an official power structure is essential to its identity and perhaps its survival. As Anonymous put it in a taunting statement to NATO, another recent object of its unfriendly attentions, "You can't cut off the head of a headless snake."
The snake seems to have a certain sense of direction, however, as the Jan. 19 attacks suggested. The inciting incident took place earlier that day in the hills outside Auckland, New Zealand, when local police landed two helicopters on the lawn of a man who calls himself Kim Dotcom and owns Megaupload, a hugely popular online service that enables people to share and store movies and other media for free.
Authorities shut down the site and arrested Dotcom and six colleagues, accusing them in a 72-page indictment of engaging in acts of "massive worldwide online piracy" that inflicted $500 million in damages on copyright holders while bringing in more than $175 million in profits.
The news spread quickly. A message went out on Anonymous Twitter accounts exhorting people to attack the Justice Department and several piracy-fighting trade groups. By clicking on a link, they could launch a page that asked them to identify a target. Thousands typed in the address of the Justice Department site and clicked enter, bombarding it with a fusillade of meaningless commands. Overwhelmed, the site froze and dropped offline.
In the chat network where Anonymous coordinated the attacks, the virtual warriors declared victory with a military phrase: "TANGO DOWN."
Part war, part game. Given the culture of the Internet, it's reasonable to assume that many of those who responded to Anonymous' call were teenagers. The software used to fire these Internet missiles was the Low Orbit Ion Cannon, a name lifted from the video game "Command & Conquer." Yet the consequences of firing it were real — a major law enforcement agency's web site was temporarily crippled, leaving the agency to observe that there had been a "degradation in service."
Last year, 14 anons were arrested in the United States for using the Ion Cannon to attack PayPal. Some now face the possibility of 15-year prison sentences.
Phoenix wasn't around when the Jan. 19 attack went down, but later that night, I found him in an Anonymous chat room and asked him to explain the motivations behind it.
"You've heard Anons say before that this is a war," he said. "A full scale information war. That's not mere propaganda, many regard that as a perfectly accurate description. And the stake at play is, simply, 'Who will control access to information? Everyone or a small subset?'"
In case it wasn't clear, he then labeled that subset: "The government."
THE WAR


This struggle for control of the Internet goes back years, but it reached a crescendo just the day before the attack on the Justice Department, when Wikipedia went dark in protest of the Stop Online Piracy Act and the Protect Intellectual Property Act, the controversial anti-piracy bills that were working their way through Congress. Google collected 4.5 million signatures on a petition against the bills. Mozilla redirected traffic from its sites. And thousands of other protesters, from Tumblr and WordPress to Some Guy with a Blog, blacked out their sites, took to the streets and posted messages opposing the legislation, saying it would hurt their business and amounted to censorship.
Across the battle lines stood film studios, music labels, pharmaceutical companies and other businesses intent on defending their copyrighted property from illegal sharing at a time when the Internet has made it possible for, say, a digital copy of "V For Vendetta" — an anon fave and the source of their iconic grinning Guy Fawkes masks — to travel from an iPad in the United States to a piracy site in Brazil to another viewer's laptop in Korea.
These companies have faced a tricky problem: How do you sue a piracy site when it's based in another country, especially one with looser intellectual-property laws? The bills' answer: You don't. You go after their enablers — websites that drive traffic to the piracy sites by posting links to them, even if they only do so inadvertently. Critics argued that the cost of getting rid of these links would drive smaller sites out of business.
Two days after the protests, in the face of public outrage and lobbying efforts from the tech sector, Congress shelved SOPA indefinitely. But that doesn't mean the war is over. As one Anonymous tweet warned about SOPA: "It can be brought back anytime. The bill must be KILLED."
Like the web companies involved in the protests, anons tend to argue that anti-piracy legislation could send the Internet down an ever-tightening spiral of government control. Many anons go further, portraying such bills as deliberate assaults on the right to free speech. They say they oppose anti-piracy efforts on idealistic grounds, not that they don't enjoy a bit of pirated entertainment from time to time. In general, obeying the law isn't their priority. "The Internet is the Wild West," Phoenix said on the night of the attacks, "and Anonymous will fight against any attempt to tame it."
That conversation with Phoenix was not my first. All of our communications took place online, mostly in the networks of chat rooms where anons plan their attacks, and I had come to think of him a messenger from the Internet underworld: He had one foot in the world of "hax0rs" — hacker-speak for hackers — and one in the world of capital letters and correct spelling.
He was like a hacker Hermes, moving freely between the realms of the living and the dead, except that in this case the realm of the dead was a dominion of cyberspace in which the dead possessed an unusual degree of expertise in massively multiplayer online video games and porn.
Altogether, I spoke with more than 30 anons, and in some respects, their attitudes couldn't have been more different, but one thing seemed to hold them together. They saw the Internet as their homeland, their home. Among them were Phoenix, Xyzzy and Gregg Housh. Together, their stories roughly trace the rise of Anonymous and the battles leading up to what Phoenix calls the war……..
.
Click Here to Continue Reading…….
.
Courtesy of Saki Knafo of the Huffington Post