Once the Republicans get rolling, they assume they're going to win everything. They are zealots, and zealots assume the last five percent of whatever their plan is will be taken care of by their own greatness or momentum or divinity.
- Keith Olbermann
Keith Olbermann on "Citizens United" - In The United States, Our Politicians Will Now Become Prostitutes.




In 2010, the Supreme Court, of Chief Justice John Roberts, in a decision that might actually have more dire implications than "Dred Scott v Sandford," declared that because of the alchemy of its 19th Century predecessors in deciding that corporations had all the rights of people, any restrictions on how these corporate-beings spend their money on political advertising, are unconstitutional.

In short, the first amendment — free speech for persons — which went into affect in 1791, applies to corporations, which were not recognized as the equivalents of persons until 1886. In short, there are now no checks on the ability of corporations or unions or other giant aggregations of power to decide our elections.

None. They can spend all the money they want. And if they can spend all the money they want — sooner, rather than later — they will implant the legislators of their choice in every office from President to head of the Visiting Nurse Service. …
Vermont Sen. Bernie Sanders discusses the president's recent climb in the polls and the movement to overturn the landmark Supreme Court decision known as Citizens United. "Whether you're talking to a Republican or a progressive, people are saying that that Supreme Court decision, Keith, is basically insane. Nobody that I know thinks that Exxon Mobil is a person," Sanders says. 
Help undo the damage of Citizens United! Urge your U.S. senators and your U.S. representative to cosponsor legislation to amend the Constitution and stop the unlimited corporate spending that's undermining our democracy. 
To restore the ability of Congress and the states to regulate corporate influence in elections, Democratic Senators Tom Udall (NM) and Michael Bennet (CO), along with Senators Mark Begich (AK), Dick Durbin (IL), Tom Harkin (IA), Chuck Schumer (NY), Jeff Merkley (OR), Sheldon Whitehouse (RI), and Bernie Sanders (I-VT) have introduced S.J. Res. 29, a constitutional amendment that would reverse the effects of the Supreme Court's decision in Citizens United v. FEC. The ruling, which granted corporations the same Free Speech rights as people to spend money in support of or against candidates for office, has led to an unprecedented flood of corporate money in elections across the United States, often under the cover of anonymity. 
Last month, Congresswoman Donna Edwards (D-MD) and Judiciary Committee Ranking Member John Conyers (D-MI) introduced a similar constitutional amendment in the House — H.J. Res. 78 — that would restore to Congress and the states the authority to regulate corporate spending on political activity, including contributions in support of or in opposition to a candidate for public office. 

Please take action now to support this legislation in both chambers of Congress by emailing your representative and senators and urging them to cosponsor these bills! 

We must take our democracy back from the corporations and restore Government By the People.
The Supreme Court's decision in Citizens United v. FEC unleashed a tidal wave of corporate and special interest election spending that is drowning out the voice of the voter. Generations of Americans have used the constitutional amendment process to right egregious wrongs and make our country better. Now it's our generation's turn.
To restore the ability of Congress and the states to regulate corporate influence in elections, progressive Senators and Representatives have introduced bills that would amend the Constitution to undo the harm of the Citizens United Supreme Court decision.
Please send an e-mail your representative right now urging him or her to cosponsor this vital legislation. Corporations are not people and should not have the same free speech rights as people in our democracy!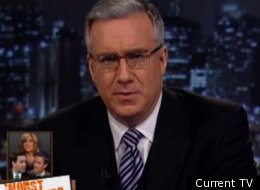 Keith Olbermann had some charged words for the weekend anchors of Fox News' morning program, "Fox and Friends."During his "Worst Persons" segment on Monday, Olbermann lashed out at Clayton Morris, Allyson Camerota, and Dave Briggs for a report on Occupy Wall Street.
Olbermann ran a clip that featured the hosts commenting on Stacy Hessler, a 38-year-old mother of four who left her home in Florida with the support of her family to participate in the Occupy Wall Street protests in Zuccotti Park.
The "Fox and Friends" hosts, who Olbermann described as "the B-team to the weekday dingbats" and as "astoundingly bad," harshly criticized Hessler for associating her decision to temporarily leave her family and participate in Occupy Wall Street with military personnel who have to leave their families to serve. They called it "disgusting" and Camerota said that Hessler "must be having a midlife crisis of some sort to leave [her] kids."
"So she's disgusting, she's having a midlife crisis, she is denying her husband sex and is an unfit mother because she decided to get involved in something political that she believes in?" Olbermann wondered.
He then directed his comments to host Camerota, saying that she has to leave her three children 4 AM to work at the "political whorehouse that is Fox News." Olbermann added, still referring to Camerota, "I don't see anyone suggesting they take her kids away."
Olbermann is a harsh critic of Fox News and has previously tweeted that the network is "100% bullshit."
Marine Corps veteran Sgt. Shamar Thomas on Occupy Times Square, veterans' rights
Keith Olbermann and Shamar Thomas – a Marine Corps veteran who attended the Occupy Times Square protest on Oct. 15 and confronted police officers for using excessive force on protesters – discuss what the Occupy movement means to him and the potential for other veterans to get involved. Thomas, for whom military service is a family affair, pointed out that riot police were not necessary in Times Square. "I've been in battle. There was no battle going on." Thomas wants to inspire other veterans to support the movement: "This is our time – in our generation – to change the greed that is in America." 
Sheriff JACKASS Joe Arpaio of Maricopa County, Ariz., is the WORST PERSON IN THE WORLD for Sept. 27, 2011
Local news station KNXV-TV of Phoenix interviewed the NATIONAL EMBARRASSMENT that is Maricopa County Sheriff Joe Arpaio Monday about his efforts to investigate President Barack Obama's birth certificate and his views on Latinos.
"First of all, about 300 people signed petitions," Arpaio said of the investigation into Obama's birth certificate. "I am the chief law enforcement officer, they asked me to look at that situation. I don't dump everything in the wastebasket. So I have my 'Cold Case Posse' which I've had for five years. It's free; it doesn't cost a penny to the taxpayers. Made up of ex-cops and some lawyers, so let them look at it."
President Obama was born in Honolulu, Hawaii in 1961, but so-called "birthers" have long argued that Obama is not in fact a U.S. citizen and have challenged the president to produce his long-form birth certificate as evidence. After ignoring the controversy for months, the White House releasedthe president's long-form birth certificate in April, but even that has not silenced his critics.
The next question to Arpaio was why he does not punish employers for hiring undocumented immigrants but sends undocumented immigrants to jail. He replied that the law against employers is a civil law, not a criminal one, and therefore falls outside his purview, and that he "locked up" those with "false identification."
Arpaio is infamous for his publicity stunts as sheriff, including making inmates wear pink underwear, conducting immigration sweeps in Latino neighborhoods, and moving inmates between jails in chains. The majority of inmates picked up in his sweeps are undocumented immigrants.
The next question came in from a Facebook user: "Why are you a racist against Latinos?"
Arpaio chuckled. "Well I'm not going to get into my personal life, and grandkids, and daughter-in-laws. I don't have to defend myself against that vicious attack. So, he can have his opinion — I know what I am." , which, of course, as the entire country knows, Sheriff Jackass Joe has demonstrated himself (time and time again) to be an idiotic, narcissistic, racist, corrupt, embarrassing AssClown.
Olbermann Calls Another Politician An "ASSHOLE!"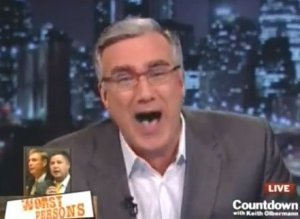 Olbermann Rages, Swears On Air
Keith Olbermann was especially feisty during his "Worst Persons" segment on his Wednesday show, going hard after Bill O'Reilly and even swearing on air.
Olbermann went after O'Reilly for his interview with Tavis Smiley and Cornel West. He played a clip of O'Reilly trying to control the combative duo and essentially failing. Calling him a "psychopath with a combover," Olbermann said that the "wake for Mr. O'Reilly's credibility" was soon being held.
But Olbermann reserved even greater scorn for Brad Drake, a Florida state legislator who recently proposed to reintroduce executions by firing squad and electrocution in his state. Drake openly admitted that the idea came to him from a man he met at a waffle house, and told a local paper that, if it was up to him, "we would just throw them off the Sunshine Skyway bridge and be done with it."
"You first, asshole," Olbermann said, going on to call Drake a "sociopath" and a "death fetishist."