BREAKING NEWS: Microsoft Unveils an alternative to the iPad and by alternative they mean it's another gynormous piece of crap…
UPDATE: The new iPad overheats and tends to explode when you put it in the microwave…
Apple is slated to announce the fruits of its labor on improving the use of technology in education at its special media event on Thursday, January 19. While speculation has so far centered on digital textbooks, sources close to the matter have confirmed that Apple will announce tools to help create interactive e-books—the "GarageBand for e-books," so to speak—and expand its current platform to distribute them to iPhone and iPad users.
Along with the details we were able to gather from our sources, we also spoke to two experts in the field of digital publishing to get a clearer picture of the significance of what Apple is planning to announce.
So far, Apple has largely embraced the ePub 2 standard for its iBooks platform, though it has added a number of HTML5-based extensions to enable the inclusion of video and audio for some limited interaction. The recently-updated ePub 3 standard obviates the need for these proprietary extensions, which in some cases make iBook-formatted e-books incompatible with other e-reader platforms. Apple is expected to announce support for the ePub 3 standard for iBooks going forward.
GarageBand for e-books
At the same time, however, authoring standards-compliant e-books (despite some promises to the contrary) is not as simple as running a Word document of a manuscript through a filter. The current state of software tools continues to frustrate authors and publishers alike, with several authors saying that they wish Apple or some other vendor would make a simple app that makes the process as easy as creating a song in GarageBand.
Our sources say Apple will announce such a tool on Thursday.
And Inkling CEO Matt MacInnis agrees that such a move would be very likely. MacInnis previously worked on education projects at Apple before leaving the company in 2009 to pursue his own ideas about creating interactive digital books. Inkling currently offers a variety of digital textbooks with interactive features, including the ability to share notes with classmates and instructors, via an iPad app.
"When you think about what Apple is doing… they are selling tens of thousands of iPads into K-12 institutions," MacInnis said. "What are they doing with those iPads? They don't really replace textbooks, because there's not very much content on offer," he said.
Don't expect that content to come directly from Apple, however. "Practically speaking, Apple does not want to get into the content publishing business," MacInnis said. Like the music and movie industries, Apple has instead built a distribution platform as well as hardware to consume it—but Apple isn't a record label or production studio.
But what Apple does provide is industry-leading tools for content production, such as Logic or Final Cut Pro, to help create content. The company also produces tools like GarageBand or iMovie that make such production accessible to a much wider audience.
Will Apple launch a sort of GarageBand for e-books? "That's what we believe you're about to see," MacInnis said (and our other sources agree). "Publishing something to ePub is very similar to publishing web content. Remember iWeb? That iWeb code didn't just get flushed down the toilet—I think you'll see some of [that code] repurposed."
Mobile, social learning
Technology-in-education expert Dr. William Rankin also believes digital books will expand with tools that will enable social interactions among textbook users. Rankin, who serves as Director of Educational Innovation of Abilene Christian University and has extensively researched the use of mobile devices in the classroom, was one of three authors of a white paper on the effects of digital convergence on learning titled "Code/X," published in 2009.
In that document, Rankin and his colleagues laid out their vision for the future of learning, which included an always-on, always-networked digital device called a "Talos." That device turned out to be very similar to the iPad that Apple announced just six months later.
"What we saw coming was a change in the kinds of places that learning would happen," Rankin said. Since the device would always be with the student, it would give her access to information anytime and anywhere. "For that, you need a different kind of book."
Such digital texts would let students interact with information in visual ways, such as 3D models, graphs, and videos. They would also allow students to create links to additional texts, audio, and other supporting materials. Furthermore, students could share those connections with classmates and colleagues.
"What we really believe is important is the role of social networking in a converged learning environment," said Rankin. "We're already seeing that in Inkling's platform, and Kno's journaling feature. Future digital texts should allow students to layer all kind of other data, such as pictures, and notes, and then share that with the class or, ideally, anyone."
Exactly how what Apple announces on Thursday will impact digital publishing isn't certain, however.
"Think about how meaningful simply authoring and publishing to an iPad will be for K-12," MacInnis said. "However, it might not be great for molecular biology."
MacInnis sees Apple as possibly up-ending the traditional print publishing model for the low-end, where basic information has for many years remained locked behind high textbook prices. Apple can "kick up dust with the education market," which could then create visibility for platforms like Inkling. This could then serve as a sort of professional Logic-type tool for interactive textbook creation complement to Apple's "GarageBand for e-books."
"There will be a spectrum of tools and consumers, and we will continue to fit on that spectrum," MacInnis opined. "I don't know if the publishing industry will react to it with fear or enthusiasm."
Steve Jobs' pet project
We know that former Apple CEO Steve Jobs was working on addressing learning and digital textbooks for some time, according to Walter Issacson's biography. Jobs believed that textbook publishing was an "$8 billion a year industry ripe for digital destruction."
According to our sources close to his efforts, however, Jobs' personal involvement was perhaps more significant that even his biography purports. Jobs worked on this project for several years, and our understanding is that the final outcome was slated to be announced in October 2011 in conjunction with the iPhone 4S. Those plans were postponed at the last minute, perhaps due to Jobs' imminent death.
Despite the delay, however, ACU's Rankin believes the time is right for a change to happen in the field. "We're headed toward a completely digital future at ACU," he said. "A recent study showed that 82 percent of all higher education students nationwide will come to campus with a smartphone. We need to have resources and tools ready for these mobile, connected students."
Courtesy of Chris Foresman for arstechnica.com
Nerds, Geeks and Misfits of the World Throw Temper Tantrum: Steve Jobs Action Figure Cancelled After Pressure From Lawyers For His Family, Apple…
SAN JOSE, Calif. - The company that began advertising for an incredibly lifelike Steve Jobs doll won't sell the figurines after all because of pressure from family and Apple lawyers.
.
In Icons had planned to offer the 1-foot (0.3-meter)-tall, lifelike figure dressed in Jobs' trademark black mock turtleneck, rimless glasses and jeans.
.
But the San Jose Mercury News reports (http://bit.ly/AoI1ZQ ) the company posted a statement on its website Sunday saying it had received "immense pressure" to drop the plan and made the decision out of its "heartfelt sensitivity to the feelings of the Jobs family."


The iconic Apple co-founder died Oct. 5 of complications from pancreatic cancer.
In icons had intended to start shipping the doll in February. The company says any money received for pre-orders will be returned.
Take a look at the (unauthorized) Steve Jobs action figure. It's so realistic, it's downright creepy.
 

The 12-inch figure, which was to have been sold by inicons, was set to ship next month and would have retailed for an Apple-like premium of $99.99. But you would have got quite a lot of detail for your Benjamin. The figure features Jobs's "uniform" of blue jeans, black mock turtleneck, and running shoes. The figure's face has glasses, realistic facial stubble, and the unmistakable male pattern baldness.
According to the site's product page, the figure comes with these features:
One realistic, sculpted head and two pairs of glasses.
One highly articulated body and three pairs of hands.
One black turtleneck and one pair of blue jeans.
One black leather belt and one chair (wood + metal).
One pair of black socks and sneaker(s).
Two apples (one with a bite).
One piece of "ONE MORE THING" hard backdrop.



Information from: San Jose Mercury News, http://www.sjmercury.com, and The Canadian Press, http://www.thecanadianpress.com/
How To Play Fetch After Thanksgiving Dinner…
"Here's To The Crazy Ones": The Apple iPhone 4S Is Even For Psychopaths.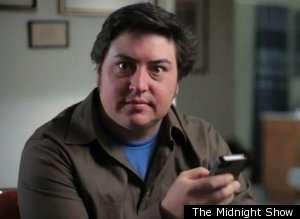 Are you a psychopath? Here's simple instructions on how to use the new iPhone 4S, with Siri.
When Steve Jobs wrote "Here's to the crazy ones" in the iconic Apple ad, we're pretty sure he didn't mean this kind of crazy.
While an insane, probably-should-be-institutionalized manchild may think that an iPhone, like the rest of the world, requires abnormal behavior to make sense of it all, it turns out that users can ask Siri questions without sacrificing bodily tissue or worshipping its power in the nude.
.
Think different. But just not insane.
Steve Jobs told Rupert Murdoch that Fox News was a "destructive force in our society," according to the blockbuster biography of the late Apple CEO.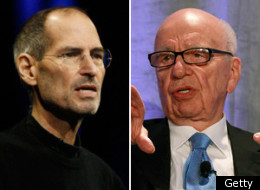 Poynter was the first to uncover Jobs' blunt words about the network in Walter Isaacson's new book. Isaacson writes that, after speaking at a News Corp. retreat, Jobs unloaded on Murdoch:
"You're blowing it with Fox News," Jobs told him over dinner. "The axis today is not liberal and conservative, the axis is constructive-destructive, and you've cast your lot with the destructive people. Fox has become an incredibly destructive force in our society. You can be better, and this is going to be your legacy if you're not careful." Jobs said he thought Murdoch did not really like how far Fox had gone. "Rupert's a builder, not a tearer-downer," he said. "I've had some meetings with James, and I think he agrees with me. I can just tell."
This was part of Jobs' apparent love of tough talk with other powerful people. He also told President Obama that his economic policies would rob him of a second term.
Nevertheless, Jobs was a close collaborator with Murdoch, working with him on the mogul's iPad newspaper The Daily.
Steve Wozniak Is "A Little Afraid" About The Future Of Apple
TechCrunch and Digg reports Apple co-founder Steve Wozniak says he is "a little afraid about the future of Apple" even though "it could go positive." Some of his concerns are based on Apple's iPhone 4S product demo. He says the company talked about its dual-core processor, but "Steve (Jobs) doesn't want us to think about dual-core processors, all we need to know is how do we get our answer, how do we connect to the internet… Human things, not technical things." He also says he doesn't want Apple to go the way Sony went in its products.
Woz is living up to his twitter bio, "Engineers First!". He is first in line to buy the iPhone 4S outside the Los Gatos, California Apple store. He was holding court, taking questions and signing autographs.
In this video, shot with an iPhone, Woz shared his reaction to the recent death of Steve Jobs and the last phone call they had together. Woz also talked about the Apple's planned spaceship campus and its connection to Apple history.
In another video in an earlier post, Woz talks about why he is excited about getting the iPhone 4S.
Update: A commenter on Digg points out that Jobs talked about the dual-core processors at theiPad 2 keynote.


Photo by Greg Kumparak
Editor's Note: The woman who is asking most of these questions was one of the many members of the public who gathered outside the Apple store. Wozniak was happy to talk to anyone who had a question or comment.
Pre-orders for the iPhone 4S only began shipping this week, but a handful of early owners have already taken Apple's first A5-based smartphone for a test run, and they've got the benchmarks to prove it. The results, obtained by AnandTech, are hardly what we'd call shocking. In terms of Javascript performance (pictured above), the 4S measures up rather nicely against the Tegra 2-based Honeycomb competition, while out-dueling the iPhone 4 in overall CPU muscle. Geekbench results, meanwhile, clock the 4S at around 800MHz, with a score of 623. That's about 25 percent lower than the A5-based iPad 2, but notably higher than the iPhone 4 (see graphic, after the break). When it comes to GPU performance, GLBenchmark 2.1 tests in 1280 x 720, off-screen render mode place Apple's new handset well above the Galaxy S II, with scores of 122.7 and 67.1, respectively. It still trails the iPad 2, not surprisingly, but the 4S' scores show a major advantage over the iPhone 4, which registered a score of 15.3. For more statistics and graphics, check out the source link below.


By Amar Toor 
 posted Oct 11th 2011 4:40AM


No, your eyes don't deceive you — Box is offering 50GBs of free storage inside its cloud for iOS users — just like it did for TouchPad owners back in June. Anyone who downloads the latest version of Box's app for iPad and iPhone will receive their massive lot for data storage after registering a personal account (existing accounts can join in on the fun as well). To make better use of that extra space, Box will also be bumping upload capacity from 25MB to 100MB per file and baking in AirPlay support. Look, Box is obviously skitching on iCloud's tail, but it sure seems like a crazy good deal considering that space is yours "forever." The promotion will last for 50 days, officially starting at 12AM on October 14th — although, we're already seeing the update on our end. 
By Joe Pollicino 
 posted Oct 13th 2011 10:34PM





This isn't the iPhone 5. No matter how badly you wanted something slim, sleek and wedge-shaped, this isn't it. If you went ahead and got your hopes up ahead of Apple's "Let's Talk iPhone" event, hopefully you've gotten over the pangs of discontent by now, because this device pictured front and center is the iPhone 4S. It's a new spin on an old phone that will shock none, but give it half a chance, and it will still impress.

The iPhone 4S comes with a faster processor, a better camera, a smarter virtual assistant and twice the storage of its predecessor — if you don't mind paying for it. Like the iPhone 3GS did before to the 3G, the 4S bumps the iPhone 4 down to second-class status, leaving those Apple fans who must have the best aspiring to own its decidedly familiar exterior. Apple says this is the most amazing iPhone ever. Is it? Yes, of course it is, but read on to see whether it's really worth an upgrade.


Hardware


Familiar is a good term for the exterior of the iPhone 4S. When the 4 was unveiled in the summer of 2010 it was a strikingly different design from anything else on the market — glass on the front and back, exposed screws holding together a deliciously clean ring of stainless steel. It was kind of chunky and industrial, like a tastefully refinished factory loft — a big contrast to the smooth and nondescript models that came before. The iPhone 4 was something truly new and, for the days and weeks after its release, just spotting one in the wild caused a sensation. It was so different that people wanted to touch and hold the thing, to see how it felt in the hand.

Few are going to go out of their way to touch and hold the iPhone 4S, but that's not to say it isn't very nice to grasp. The iPhone 4 felt like a finely crafted piece of machinery and there's no doubt this one walks in those very same footsteps. Compared to your average modern Android wunderphone the 4S feels small, dense and heavy, a very different sensation than the occasionally lighter but frequently more plasticky competition. The 4S does actually have slightly more heft than the 4, but only by carefully holding one in each hand can you notice the increase from 137 grams (4.83 ounces) to 140 (4.94 ounces).

Save for a few tweaks that even the most dedicated Appleista wouldn't be able to spot at a distance, the 4S is identical from the exterior. A few of the controls have been shifted by fractions of a millimeter and this uses the same exterior antenna layout as the CDMA iPhone 4 that hit Verizon earlier this year. Rather more significantly, though, how it works with those antennas has changed.



The iPhone 4S can now intelligently and instantly switch between those exterior antennas, in real-time, even while you're in the middle of a call. Will this successfully put to rest the iPhone's reputation as a call dropper? That we're not able to say conclusively at this time, as you really need masses of people hammering on a device to bring out its worst. ("Antennagate" didn't come to light until a few days after the iPhone 4's release.) But, in testing a Vodafone 4S against a 4 we found the 4S to be consistently one bar higher, and did a far better job of holding on to 3G data. Here in the States, our Sprint 4S kept right up with another device we had handy from the same carrier: the Nexus S 4G.

There have been a fair number of other tweaks on the inside. In fact it's safe to say Apple threw out the lot of the iPhone 4's guts and stuffed in a whole new batch, starting with the A5 processor. Yes, it's the same dual-core chip that powers the iPad 2 and, while Apple isn't saying, it's running at 800MHz — a bit of a step down from the 1GHz it's clocked at in the tablet. RAM unfortunately stays the same, at 512MB, but maximum available storage has doubled, matching the iPod touch by maxing out at 64GB.



The other major change to the internals comes in the wireless network support. This is a quadband UMTS / HSDPA / HSUPA (850, 900, 1,900, 2,100MHz) and quad-band GSM / EDGE (850, 900, 1,800, 1,900MHZ) device, while also offering dual-band CDMA EV-DO Rev. A (900, 1,900MHz). All that naturally means you'll be getting 3G data on nearly every carrier in these lands and abroad, though those providers are still being cagey about just how much success you'll have at porting the 4S from one to another — at least until the unlocked model shows up in November. There's no 4G on offer, though AT&T's 14.4Mbps HSPA+ service will leave you feeling a bit less out of touch.

Up front is the same 3.5-inch, 960 x 640 Retina display that wowed us 16 months ago on the iPhone 4. That 326ppi density is still quite a lovely thing to behold, surely one of the highest quality panels currently available today in a phone, but in nearly a year and a half the world has moved on. Smartphones are bigger than they were in 2010 and 3.5-inches seems on the small side of average. It's a great size for those with moderately proportioned hands, and opinions certainly differ when determining what is the optimal girth for a smartphone (if, indeed, there is such a thing as optimal) but, after living with a 4.2-inch or larger device, looking at the digital world through a 3.5-inch portal feels just a bit… narrow.


Software (Siri)


Though it comes a few days after its release, the iPhone 4S ushers in the world of iOS 5. This latest revision of Apple's mobile operating system helps to clean some of the dust off of what was starting to feel a bit dated without actually changing any fundamentals. iOS 5 introduces a slew of improvements and enhancements, some minor and some rather more major. We've already posted a particularly comprehensive iOS 5 review, so we won't blather on about it any longer here except to say it's a very solid update that will make your smartphone an even more seamless, integral part of your life.


The one thing we will blather on about quite a bit more here is Siri, your own digital helper. Siri is an evolution of the Siri Virtual Assistant, a spin-off of a DARPA project called CALO. Apple bought the company in early 2010 and now that functionality is baked right into the OS. Sort of.

Siri can only be found on the iPhone 4S, a curious and seemingly arbitrary shunning of the other iOS devices. We've heard that's due to the processor demands required for voice recognition, but since you need an active data connection to use Siri we have to imagine that the heavy lifting for voice recognition is happening somewhere inside Apple's massive data center, which would seemingly allow lower-spec devices to do the same. And, since the iPad 2 is running the A5 at an even higher clock speed, there's just no good reason we can think of for putting Siri exclusively on the 4S. Let the poor girl out, we say.

Should you find yourself owning the requisite hardware to give Siri a shot, you'll probably be pretty impressed with what she can do. Of course, "she" is a characteristic bit of anthropomorphism that we'll apply to the same voice you've probably heard in a half-dozen GPS devices in the past, but still, calling her an "it" just seems a little wrong. Siri herself, though, wouldn't mind. Ask her "Are you a man or a woman?" and her response is a curt "I was not assigned a gender." We think she's just playing hard to get.

Siri can do a huge number of things, from sending texts and emails to finding restaurants and getting directions from one place to another — things that, it must be said, could largely be done before by voice on other devices and platforms. It's really the enhanced ability to understand casually spoken English mixed in with the notion of context that sets this apart.


Let's talk about the context bit first. Say you want to send a text to your wife to remind her to pick up the dogs from boarding on the way home from work. You can just say, "Tell my wife don't forget the dogs." Siri will send your wife a message saying, "Don't forget the dogs." How does Siri know who your wife is? Well, she doesn't at first, but she'll ask, and once you tell her she'll remember — until the end of time.

That context works in other situations, too, like receiving a text message from someone, asking Siri to check your calendar, and then just saying "Reply, I'll see you then." You don't need to say who to reply to, Siri will remember. For the first time we feel less like we're giving stiff commands to a device and more like we're actually having a conversation. That said, you can still be as commanding as you like. Siri won't mind.

And then there's the other part that makes Siri good: you don't have to remember the commands. At least, not as much as you do with Android. If you want directions on Google Navigation you have to specifically say "Directions to X." With Siri you can say "Get me directions to X," or you can say "Tell me how to get to X," or even "Directions to X." It's a minor difference but it feels more like Siri is smart enough to figure out what you want, whereas the voice recognition elsewhere feels more like you have to be smart enough to remember to say what it wants. (Even so, we'd certainly prefer to use the far more polished Google Navigation than IOS's Maps to get around.)


Still, this isn't exactly unprecedented, apps like Vlingo do similar things elsewhere. Also, it should be noted that Siri isn't necessarily any more accurate than other offerings. We did a side-by-side comparison of the dictation abilities of iOS 5 vs. those built into Android and Windows Phone and found them to be similar. Android's dictation services, though rather less friendly than Siri and requiring a few more taps on the display, were every bit as accurate. Windows Phone, however, struggled to provide consistently accurate transcriptions, often missing words and getting more complex statements wrong. For example, the spoken text "Kurt Vonnegut lived near Schenectady, New York," one time resulted in the message "Could I get laid in your Schenectady New York." An interesting message that Mr. Vonnegut would have likely approved, but wasn't exactly what we had in mind.

It's in going the other way that Siri has even more potential, saying that you have a new message and then promptly reading it to you — then letting you reply by voice. The biggest issue here, though, is that you can't have emails read to you, which means you can't fully reply by voice. (You can do voice dictation, but you'll need to trigger that with your fingers.)

This potentially could be a boon for people who would rather listen to their inbox than NPR on the commute home from work, and indeed it is, but the functionality here is a little more limited than we'd like. For example, you can tell Siri to look up something on Wolfram Alpha, and that she'll dutifully do, but she won't read you the response. You have to look at the phone, likely thanks to Wolfram Alpha rendering its results as images rather than plain text.

A truly good assistant will look up whatever you ask and promptly tell you the answer — not print it out and make you read it. Having to still fish your phone out of your pocket for some things makes Siri rather less wonderful than she could be, but she's very impressive nevertheless. And, more importantly, this signals that Apple is taking a real interest in improving voice recognition and hands-free device interaction. That should mean some amazing progress from here, and we can't wait to talk to the next generation Siri.

We also hope that Siri's siblings will be able to run offline, because today's girl requires a 3G or WiFi connection to do anything. Even the simple voice commands that were available in iOS before no longer work offline, and if you happen to be one of the few who actually used those commands to change tunes while offline, you're sadly going to have to find another way. We also hope that she broadens her horizons a bit, as much of Siri's functionality (directions, looking up businesses) doesn't work in Europe.


Battery life and performance

The teardown of the iPhone 4S revealed a new battery pack that's just a wee bit bigger than that found in the 4 (5.3Whrs vs. 5.25) so the promised increase in longevity found here must come from more efficient internals. And that's a very good thing — we'd prefer to see phones get more frugal than simply progressing on to bigger and heavier batteries.

Apple promises up to eight hours of battery life on an active 3G connection, which is up one hour from the 4. Curiously, though, standby time has dropped from 300 hours on the 4 to 200 on the 4S. (This phone is, apparently, something of a restless sleeper.) Other stats remain the same: 14 hours on GSM, 10 hours of video watching and 40 hours of listening to tunes. Alas we've not yet been able to complete our full suite of battery tests (we'll update this when we do).

When you're less concerned about longevity and more concerned about outright speed, the 4S won't disappoint when compared to its predecessors. On the SunSpider 9.1 JavaScript benchmark, a good test of overall ability to render the best the web has to offer, the phone scores a 2,200ms on average. That's well lower (quicker) than the 3,700 the iPhone 4 manages and faster than any other smartphone we've tested. In fact it ranks right up there with tablets like the Galaxy Tab 10.1 (2,200), but still the iPad 2 leaves it behind with its score of 1,700.



But it's not all about the benchmarks, and we've been overall quite impressed by the performance of the 4S in general tasks. We remain continually impressed by the performance of the iPhone 4 — despite its aging assets, it still performs like a young smartphone in its prime. In other words, we're not seeing aparticularly strong difference between day-to-day usage of the two devices. Yes, your apps will load a little more quickly and react more responsively and your webpages will render more snappily, but Apple already did such a good job of ensuring solid performance on the 4 that this upgrade seems rather less than necessary.

Of course, that could all change when we start to see some games able to make use of the extra firepower the iPhone 4S has at its disposal. At the phone's coming out party Epic showed off Infinity Blade 2 and wowed us with very impressive graphics. The problem is, that game isn't due out until December, and we're not aware of other similarly eye-popping 4S-exclusive titles in the pipeline that will be dropping before then.

The final aspect of performance is network speed and, as ever, your mileage can and will vary greatly depending on the relative strength or weakness of carriers in your area. But, regardless of carrier, the lack of LTE here is a definite disappointment. Top-tier phones on Android almost universally feature a fourth gee and, with Verizon, Sprint, and AT&T all finally onboard the LTE train to 4G Town, it's about time the iPhone hitched a ride too. Its omission surely helps battery life but hurts this device's status as a world-conquering wunderphone.

We tested a Sprint version of the phone and found that, with full bars on 3G, download speeds were averaging about 1Mbps down and .9Mbps up, with pings hovering around 70ms. Comparing that to a Nexus S 4G (with WiMAX disabled), also running on Sprint, we found download speeds to be quite comparable. Signal strength between the two phones was comparable as well.


Camera


Apple is quite proud of the iPhone 4's status as the most popular camera on photo sharing sites like Flickr, and now the company is finally giving all those guerilla photogs something good to capture pictures with. As was long rumored, the iPhone 4S steps up to an eight megapixel, backside-illuminated sensor that sits behind a new lens array with an f/2.4 aperture (improved from the old phone's f/2.8). More megapixels certainly don't equate to better pictures, but it's safe to say the new camera package here impresses.

But, what will impress you first is the speed. Apple is quite proud of the speed improvements for bringing up the camera app and taking the first picture, and it is a noticeable improvement over the 4 — except when using the HDR mode that was introduced in iOS 4.1. Here it doesn't seem to be much if any quicker at all. Leave that off, though, and you'll be hopping from one shot to the next like someone who hasn't got time for shutter lag.

In our initial camera testing, we put ourselves into tourist mode: walking around, taking random pictures of things that tourists would. The quality of the resulting shots is definitely good, among the top top tier of shooters we've tested. The phone doesn't seem to be bothered by big differences in contrast (like the Galaxy S II) and does a good job focusing quickly and accurately — we only had one or two missed macro shots.

Video quality is also top-notch. The iPhone 4S will record at 1080p30 and we found the footage to be clear and bright. Auto-focus happens quickly and we didn't detect any obnoxious focus-hunting.

Overall the improvements on the camera are tangible and appreciated, but there's one thing Apple sadly failed to fix here: its location. The peep-hole for the lens is still too close to the edge of the device for our tastes, which resulted in many a stray finger sneaking into our shots. We'd have liked to see it sneak its way a little further toward the center of the phone.


Wrap-up

Is this the best iPhone yet? Yes, of course it is. The iPhone 4S takes the previous king, gives it some more pep and adds on a better camera to boot, all without really gaining any extra weight. This is, then, the best iPhone on the market, but that still leaves us with two unanswered questions: is it the best phoneon the market, and is it worth the upgrade?

The first question is hard to answer. If you're into iOS, have a wealth of App Store purchases you'd like to keep using and in general are down with the Apple ecosystem then, yes, this is the best phone out there. If, however, you've been shopping around, or are already tight with Android, Windows Phone, BlackBerry or Meego (hey, the N9 is pretty great) then it's hard to see this as a truly forward-looking device. The 3.5-inch display and abject lack of 4G connectivity alone make this phone feel a little too conservative to really tickle the fancy of those looking for something a bit more progressive.

So, then, is it worth the upgrade? Well, if your contract happens to be up and you want an iPhone andyou haven't already jumped on the iPhone 4 then yes, this is the one you want. It does come at a $100 premium over its predecessor, but in the long run that premium will be worth it as the 4S will surely be supported by Apple for a good bit longer than the 4 (as the 3GS continues to be, while the 3G is now fading into obsolescence). But, if you're mid-contract or haven't quite yet been wooed by all that iOS has to offer, we'd recommend sitting this one out. The iPhone 4S does everything better than the iPhone 4, but it simply doesn't do anything substantially different.

Zach Honig and Mat Smith contributed to this review.