Today's Smart-Ass Response To A Completely Well-Meaning Sign…
It's OK to celebrate Columbus Day but try not to get syphilis, rape, torture, enslave and kill tons of people and destroy an entire civilization…
Today is Khloe Kardashian's
 birthday. Feel free to send Khloe a clue…
Bottled Water = Tap Water
If you fear change, then give yours to a homeless person….
Photo Art By  cayandesign
Big Brother Is Watching Your Tweets… 
It started with businesses concerned about their brands. Intelligence agencies have moved into it, raising alarms among privacy advocates. And many other government agencies are just beginning to explore its potential. It is social media analytics.
Companies and government agencies alike are using tools to sweep the Internet — blogs, websites, and social media such as Facebook and Twitter feeds — to find out what people are saying about, well, just about anything. The companies are generally interested in complaints about products or looking for sales leads. Intelligence agencies are looking for, among other things, warnings about potential terrorist threats.
The US Federal Bureau of Investigation posted a Request for Information last month calling on IT companies to demonstrate their ability to design software for monitoring, mapping and analyzing social media.
The RFI, posted to the government's Federal Business Opportunities website in January, reveals the FBI's desire for software capable of monitoring social media websites like Facebook and Twitter to provide alerts and analysis for publicly posted information. The software would require the ability to:
"Geo-spatially locate bad actors or groups and analyze their movements, vulnerabilities, limitations and possible adverse actions"
"Detect instances of deception in intent or action by bad actors"
and
"Develop pattern-of-life matrices to support law enforcement planning and enforcement operations."
In fact, the FBI is not the only US government agency currently working to monitor online social media;
In October 2010 the Electronic Frontier Foundationobtained documentson social network surveillance under the Freedom of Information Act showing that the Department of Homeland Security has established a "Social Networking Monitoring Center" for the collection and analysis of online public communications.
Last year, the Electronic Privacy Information Center obtainedmore FOIA documentsregarding the DHS social media surveillance, showing that the department has contracted General Dynamics to monitor social networks and even the comment sections of various news websites for "media reports that reflect adversely on the US Government [or] DHS."
Also last year, the Federal Reserve Bank of New Yorkissued a Request for Proposalfor "Sentiment Analysis and Social Media Monitoring" software. The request called on companies to develop software to monitor social media such as tweets, Facebook posts and YouTube comments to analyze what people are thinking and saying about the United States' privately-owned central bank.
In February of last yearit was revealedthat the US Air Force had solicited "persona management software" from contractors through an FBO request. The contract called for vendors to develop software which could allow up to 50 users to manage 500 online personas, which would be created "with background , history, supporting details, and cyber presences that are technically, culturally and geographacilly consistent." The request also called for virtual private servers in specific geographic locations that could allow the social media persona to appear to be from a different part of the globe. When news of the proposal broke and several large websites began to draw attention to it, it was quickly taken offline.
Last July, DARPA, the Pentagon's research project wing, announced a "Social Media in Strategic Communication" program. The announcement included language specifically calling for the ability to "influence operations" in "the environment in which [the Pentagon] operates," meaning that it will be used to launch "countermessaging" campaigns online, supposedly to combat the spread of information harmful to the Pentagon's interests.
Last month's FBI request for information, too, crosses the line from passive monitoring into active operations. One of the desired attributes of the software that the FBI wants to develop is the ability to "predict likely developments in the situation or future actions taken by bad actors" by analyzing patterns and associations in the target's online communications. 
Once envisioned as ascience-fiction scenario, America's top law enforcement agency is now attempting to integrate pre-crime detection into their social media analysis.
Currently, according to the law, government agents can sneak onto your property in the middle of the night, put a GPS device on the bottom of your car and keep track of everywhere you go. This doesn't violate your Fourth Amendment rights, because you do not have any reasonable expectation of privacy in your own driveway — and no reasonable expectation that the government isn't tracking your movements. And now, our government is planning to monitor your speech and track your activities using social media analytics.  
.
This is the bizarre — and scary — fact that now applies to the world in which we live. The U.S. Court of Appeals for the Ninth Circuit,  recently decided the government can monitor you  virtually anytime it wants — with no need for a search warrant. And the same may very well apply to government's monitoring your activities via social media.  Certainly, it is obvious that our government will soon have (if not already) the ability to track everything you do on Facebook, Google, Twitter, Foursquare and the like.
.
It is clear, that when government is provided with a tool that allows it to spy on it's citizens, that tool is abused to the detriment of the people 100% of the time.  
.
So, the next time you feel like posting information to your Facebook page or your Twitter feed, know that Big Brother is will be watching.



Today's Brilliantly Smart-Ass Response To A Completely Well-Meaning Sign…
Triumph, The Insult Comic Dog Visits Occupy Wall Street…….. Mocks The House Down !!
.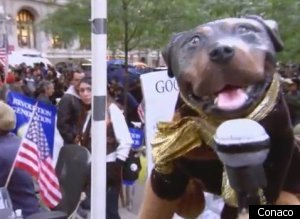 He's back………………..
Triumph, the Insult Comic Dog appeared with Conan O'Brien for the first time in over a year last night in a remote piece at Occupy Wall Street. As if the last episode of "Conan" in New York City wasn't already an embarrassment of riches, with Louis C.K., a live gay wedding and an appearance from Jon Stewart and Stephen Colbert, Triumph reminded us why we love the cigar chomping, relentlessly scathing dog puppet (voiced by Robert Smigel).
Triumph went down to Wall Street, where he talked to protestors, bankers and other bystanders participating (or simply viewing) the protests. Nobody was safe from the dog puppet's attacks — Triumph poked fun at the protestors for their hygiene and drum circles, and the bankers for, well, being bankers.
When Triumph realizes he's not being taken seriously, he disguises himself as a certain mustachioed Fox News correspondent in hopes of tricking the financiers into thinking that he's on their side. Be sure to watch until the end of the clip, unless you absolutely don't want to see a 20 foot inflatable Triumph humping the famous Wall Street bull statue.
Prior to this appearance, Triumph was last seen on O'Brien's "Legally Prohibited From Being Funny on Television" tour. Although NBC claims to own the intellectual property from O'Brien's talk shows when he was on that network, he showed up on "Conan" anyway, along with another supposedly forbidden character The Masturbating Bear.
"Here's To The Crazy Ones": The Apple iPhone 4S Is Even For Psychopaths.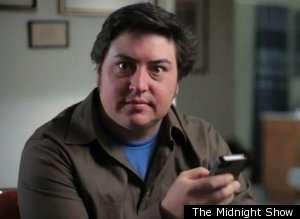 Are you a psychopath? Here's simple instructions on how to use the new iPhone 4S, with Siri.
When Steve Jobs wrote "Here's to the crazy ones" in the iconic Apple ad, we're pretty sure he didn't mean this kind of crazy.
While an insane, probably-should-be-institutionalized manchild may think that an iPhone, like the rest of the world, requires abnormal behavior to make sense of it all, it turns out that users can ask Siri questions without sacrificing bodily tissue or worshipping its power in the nude.
.
Think different. But just not insane.
A Perfect Definition of Facebook
An anonymous definition of Facebook. And a perfect one at that, because it's all true. What? Are you still in that stupidly useless place, after all the warnings?. Don't worry,We're still in Facebook too.
The Halloween Hangover…….Have Fun Kids.